Wrestling Season Memories:
Our senior year we won the Southwestern Conference Championship. The February 11, 1962 Cleveland Plain Dealer article read -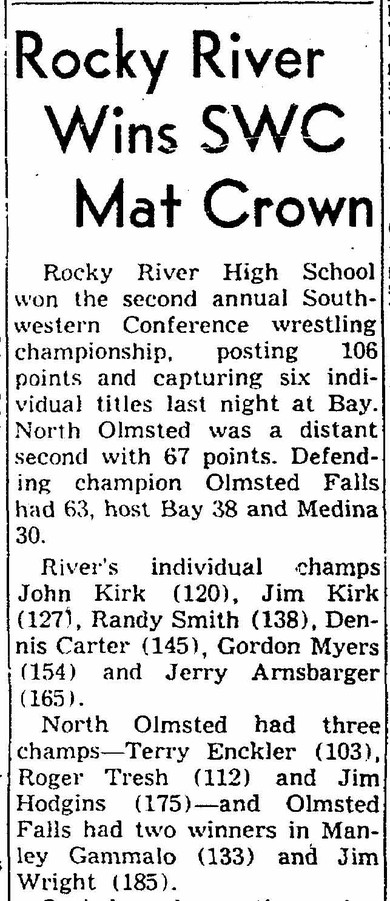 Team Photo - click to enlarge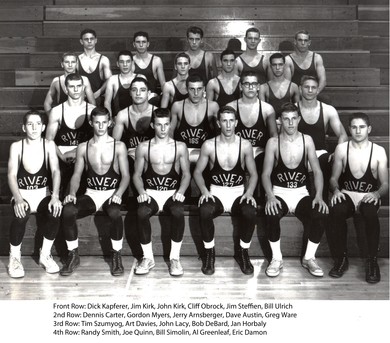 Coach Chadwick started the wrestling team our Freshman year - and his first year at Rocky River. On February 27th, 2012 Don wrote - "
Gordon Myers vividly remembers the early practices underneath the auditorium stage. "We walked down a very steep, narrow staircase to a basement "pit" area. It was extremely small (you could barely stand up staight) and had concrete building support piers every few feet. We were always trying to protect each other from slamming into the piers!
All wrestlers remember the constant dieting to make our wrestling weight class. Dennis Carter even built a "sweat box". It was made of plywood with numerous 100 watt light bulbs inside. One sat inside until they sweated off enough water to make the needed weight! Everyone remembers Chadwick getting us in shape by having us run up and down the staircase near the entry door next to the gym. He also had us run "around the block" - i.e. about 2 miles from Wagar to Westway to Northview and back on Detroit. And if it had snowed and the sidewalk was covered with ice? - too bad, just don't fall!"
Jerry Arnsberger emailed - "I remember running outside in those wrestling shoes, it was around 2 miles jog. Its lucky we have any knees left. I also remember practicing in a classroom instead of the gym. It was a classroom off the cafeteria. We used to pack the thermostat with snow wrapped in a towel to make it hot in the room. Its lucky those thermostats were air operated and not electric."
John Kirk emailed - "I was a regular in the sweatbox. In our sophomore year, I mostly wrestled at the 103 pound class and had to lose 11 pounds every week. My senior year, I wrestled at 120 and had to lose about 7 pounds every week. In college I "bulked up" to 142 and, having had my fill of the sweatbox, I wrestled at that same weight.

My most vivd wrestling memories were the weekly "wrestle-offs" which in my case, during our sophomore year, always culminated in a match against my brother, Jim. The "winner" wrestled at 103 and the loser at 112. Often, we'd finish the match at home.

Do you remember the halftime basketball game between the wrestling team and the girls' basketball team? We wore boxing gloves. I can't remember which side won." (According to the Yearbook, the "seniors on the squad upset the girls' all star basketball team.")
Jim Kirk emailed: "In addition to running the stairs, I remember running up and down Wagar hill. I also remember the time Coach Chadwick took on the entire team, from 103 pounds to heavyweight. He didn't have any trouble until he got to the bigger guys, when he was undertandably pretty tired, but he beat everybody.

We had some kind of cushions or mats on the walls when we practiced under the stage. I remember blood on the walls.

Who was the guy who kept dislocating his shoulder? Coach Chadwick would grab him by the arm and snap it back into place. And I remember fluid building up in knees and ears and going to the doctor to get the fluid drained."
---
Photo of our Coaches: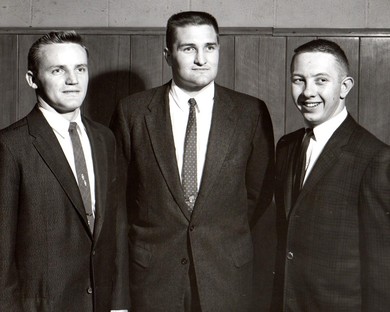 Clyde Simpson (Asst. Coach), Don Chadwick (Head Coach) and Bob Dash (Asst. Coach)
---
Dual Meet Program Found
One of the original programs from our dual meets was found - click here to see
---
Dennis Carter - Team Captain
Dennis Carter was the best wrestler our senior year. He was 11 - 0 going into February when the district meet occured. Unfortunately he became very ill - we think it was the flu - and lost at district. Most of the team felt he had a real chance to be the state champion at 145 pounds.
A copy of an article about Dennie from the January 30, 1962 Plain Dealer appears below:


Additional Momentos from RRHS Wrestling 1959-1962 from John Kirk
Click on links below:
RRHS Wrestling Program 1961-1962 Season
Southwestern Conference Wrestling Program 2-10-1962
Southwestern Conference Wrestling Tournament Program 1961
RRHS Wrestling Miscellaneous 59-60 & 60-61