"Mr. Barry's Etchings" Remembered - (updated December 4th)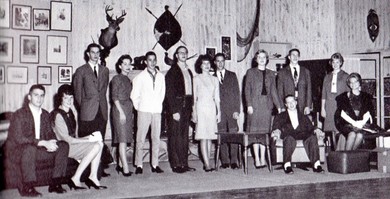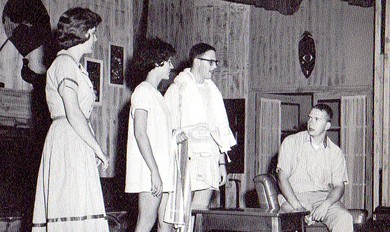 In November of 1961 the Neophyte-Thespians gave a great performance of "Mr. Barry's Etchings". It played to sold out audiences both nights! The cast members included Phil Erb, Chuck Baumgartner, Joyce Letson, Carol Kaiser, Dick Lindsley, Sue Larsen, Sue Harris, John Glansbeek, Marty McClure, Jack Ugan, Jan Horbaly, Pat Stevens and Al Pointer.
The cast has sent in some great memories! -
Pat Stevens (Robertson) remembered-
"Do I have any memory of appearing in "Mr. Barry's Etchings"? Sure do. I was Daisy, the ditzy dumb secretary to Jan Horbaly. He and Carol Kaiser had finally worked up to a first kiss, and I was supposed to enter hurriedly from the wings to report something to him, interrupting the kiss. My heel stuck in the floorboards and instead of entering via the stage, I pretty much flew in and landed like Superman, wearing one shoe and a huge run in the stocking on the shoeless foot. Carol took one look at me and burst out laughing. Since I had landed behind a couch, my only hope was that the audience's reaction was to the timing and not the manner of my entrance."
Jack Ugan Butler remembered - "I will never forget it! It was such great fun preparing and rehearsing. Lots of camaraderie. But on the first night of the show, I was so focused on listening for my cue, I neglected to say my line once I got out onto the stage. After what seemed like minutes of silence, the prompter, nudged me out of my stunned phase and I delivered my line. However, this incredibly embarrassing moment (in MY eyes) continued to haunt me for years afterwards. Ah, the fragile ego of this particular teenager. And just to cement my memories of the play, that first night I also did an Aw shucks kick of my foot every single time I said a line! Needless to say, those talent scouts did not beat a path to my door! "
As many of you know, Phil Erb, who played the lead role in the play, passed away two years ago. His wife, Lynn Jaenke Erb (class of 1963), has shared their personal love story that started with the play -
"Mr. Barry's Etchings" is a play that changed my life. I was a neophyte and tried out. I was told I didn't make the cut and then went home. I later had a call from Miss White (!) saying that she had made a mistake and would I come back again. I ended up being Sue Harris's understudy, and a prop person. Phil Erb was the lead, and I really didn't know him at all, but came slowly to think he was really nice, and gentle, and kind. But my job was to run up and down a flight of stairs over and over at the rehearsals because Mr. Barry's studio was supposed to be on the second floor. It actually was quite fun, and I just loved being involved. Then Sue Harris won the Miss Teenage Cleveland contest and had to fly to Texas to compete nationally (I believe she came in sixth). So, I got to play her part during rehearsals as the sexy woman while she was gone. She was back in time for the play, and I think Phil was kind of sweet on her.

After the play had been performed, I got invited to a party over Thanksgiving at Phil's house and we danced in his basement and talked. We finally had our first date fifty years ago yesterday (Dec. 2, 1961), and we never looked back. He kissed me very sweetly on our fourth date in the back seat on the way to a school dance. To wrap it up, I followed him to Syracuse U. a year after he went. and we got married in 1966 and lived in married student housing while I finished my bachelors and he got his masters. We were married for 43 wonderful years, with three great kids, and two grand kids. Then Phil died of a hemorrhagic stroke two years ago. But we lived a lucky, beautiful life together in Vermont....and I owe it all to Mr. Barry's Etchings! One more thing...Phil was one of the shyest people I have ever met....I still don't know how he got up to courage to be the lead in two plays that year......he didn't either.

Bud Bowles found a copy of the original program -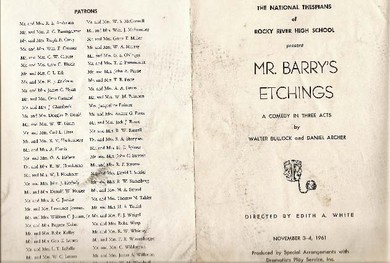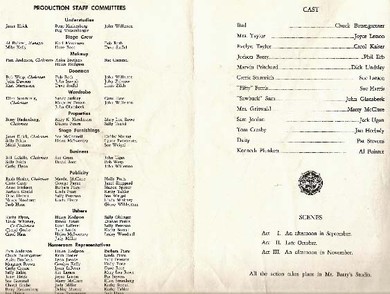 Good Memories!